Dalia Baassiri
Dalia Baassiri (b. 1981) is a Lebanese visual artist, born in Sidon, Lebanon. She holds a BS in Graphic Design from the Lebanese American University in Beirut and a a MA in Fine Art from Chelsea College of Arts in London.
Having grown up during the civil war, she questions the relationship with a country in continuous conflict. How does one identify with a land while having spent most of childhood indoors? In her interdisciplinary work ranging from drawing, painting to sculpture, she finds refuge and answers within the parameters of her own home. The world of the domestic, from dust to walls and everything in between, has become the most familiar fertile ground for artistic discourse.
Her work has been showcased in both national and international platforms among them; Galerie Janine Rubeiz (Beirut), Galerie Odile Ouizeman (Paris), Stand4 Gallery and Community Art Center (Brooklyn NY), Sculpture Space (Utica NY), Arsenale Nord (Venice), OXO Tower Wharf (London), Kempinski (Berlin) and many more.
In 2021, she has been invited to take part in "Cities Under Quarantine; the Mailbox Project" by Dongola Books. In this ambitious artist's book project, the publishing house sent a blank handmade notebook to 57 artists around the world, and they made interventions on them. The books were on view from September till December 2021 at Villa Romana in Florence, Italy.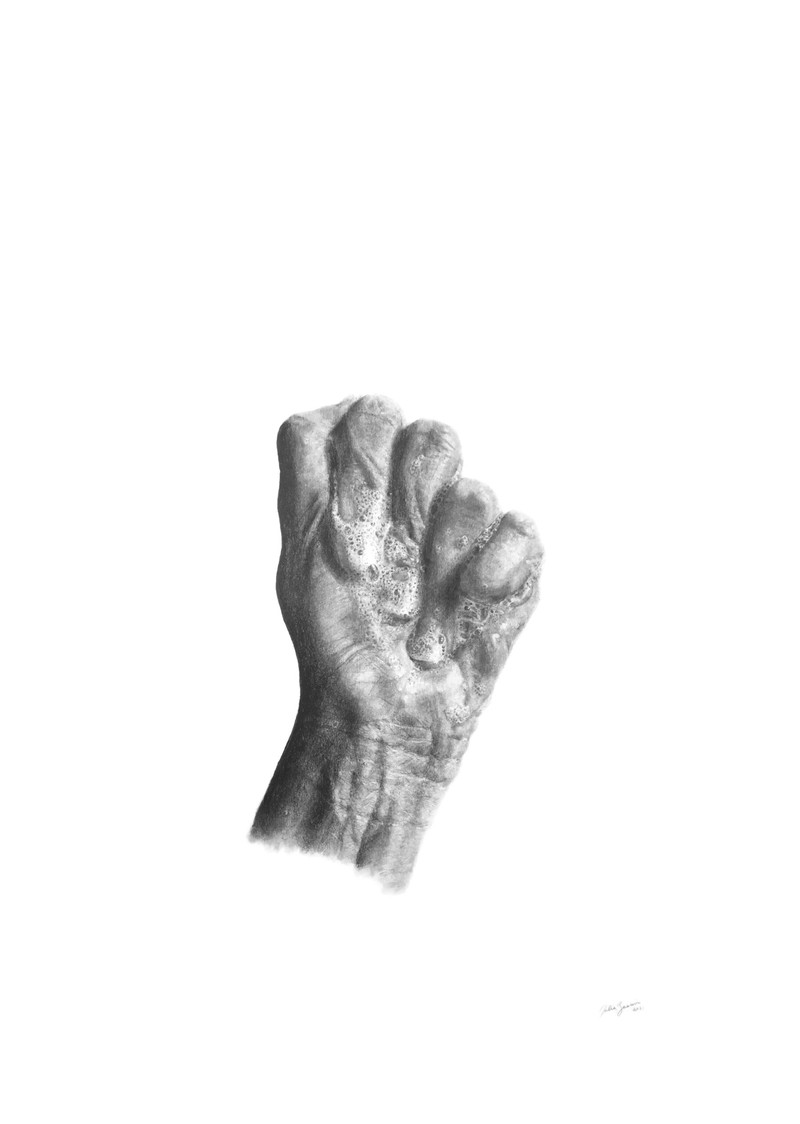 AWARDS
2019
Finalist, Scultpure & Installation Category, Arte Laguna Prize, 13th ed., Mogliano Veneto, Italy
2017
Finalist, Sculpture Category, Celeste Prize, 9th ed., Celeste Network, Poggibonsi SI, Italy
2011
The Bench Artist Award by Maraya Organization, Beirut, Lebanon
2005
2 Golden & One silver Award by the Lebanese Web Design Awards, Beirut, Lebanon
1997
Best Female Interpretation, Acting Award, French Cultural Center, Beirut, Lebanon
1992, 1993, 1994
Fabriano Drawing Prize, Sidon, Lebanon
SOLO SHOWS
2018
Vesuvius, Part of ArtNou Art Festival, Espronceda Center of Art & Culture, Barcelona, Spain
2017
Wiped Off, Galerie Janine Rubeiz, Beirut, Lebanon
2015
von Beirut nach Berlin, Dialogue of Spaces, by Kempinski Young Artist Programme in cooperation with Siena Art Institute, Kempinski, Berlin, Germany
2013
Ink Infection, AltCity Hamra, Beirut, Lebanon
2012
It's Mental, MA Program (Project Space), Chelsea College of Arts, London, UK
SELECTED COLLECTIVE SHOWS
2022
Garage Band, curated by Hatch, Paris, France
Mon Histoire by the French Institute of Jounieh, French Institute, Beirut, Lebanon
2021
Cities Under Quarantine; The Mailbox Project, Dongola Limited Edition, Villa Romana, Florence, Italy
Wajihat, Collective Public Installation of Vertical Banners by Galerie Janine Rubeiz, Boulos Fayyad Building (facing the port), Beirut, Lebanon
LAU ArtsRising, Online Fundraising Auction for Students' Emergency Financial Aid, Artscoops, Lebanese American University, Beirut, Lebanon
Space and Emotion Amidst Confinement, Online Exhibition, Galerie Janine Rubeiz, Beirut, Lebanon
2020
Une Autre Scène du Liban, Galerie Odile Ouizeman, Paris, France
2019
East Meets West, Stand4 Gallery and Community Art Center, Brooklyn NY, USA
Rising Art, Galerie Janine Rubeiz, Zaytouna Bay, Beirut, Lebanon
Finalists Show, Arte Laguna Prize, 13th ed., Arsenale Nord, Venice, Italy
2018
WIF Women In Front, Beit Beirut, Beirut, Lebanon
50th Anniversary of Fallani Venezia, ICI International Cultural Institute, Venice, Italy
End of Residency, Arte Laguna Price 12th Edition, Fallani Venezia, Venice, Italy
2017
Finalists Show, Celeste Prize, 9th Edition, OXO Tower Wharf, London, UK
Imago Mundi – Mediterranean Routes, Part of the BAM – Biennale Arcipelago Mediterraneo – Zisa Zona Arti Contemporanee (ZAC), Palermo, Italy
Summer Collective, Galerie Janine Rubeiz, Beirut, Lebanon
2016
Bitasarrof, The Lebanese National Library, Beirut, Lebanon
FAIRS & BIENNALES
2022
Menart Fair, no/mad utopia gallery, Paris, France
2018
Abu Dhabi Art Fair, Galerie Janine Rubeiz, Abu Dhabi, UAE
2017
Abu Dhabi Art Fair, Galerie Janine Rubeiz, Abu Dhabi, UAE
2016
Art Dubai Film Program, Chantet El Malja2, documentary, scenography collaboration, Galerie Janine Rubeiz, Dubai, UAE
Fine Arts Alumni Biennial, Lebanese American University, Beirut, Lebanon
2015
BEIRUT ART FAIR, Galerie Janine Rubeiz, Beirut, Lebanon
RESIDENCIES
2018
Art Residency at Fallani Venezia, Artist in Residence Category, by Arte Laguna Prize,12th ed., Venice, Italy
Art Residency at Espronceda Center of Art and Culture, Artist in Residence Category, by Arte Laguna Prize 12th ed., Barcelona, Spain
2016
Art Residency sponsored by ArteEast at Residency Unlimited, Brooklyn NY, USA
Art Residency sponsored by ArteEast at Sculpture Space, Utica NY, USA
2015
Fellowship at Kempinski, by Kempinski Young Artist Program, Berlin, Germany
Fellowship at Siena Art Institute sponsored by Kempinski Young Artist Program, Siena, Italy