Aline Deschamps
Aline Deschamps
(b.1991) is a French-Thai photographer currently based in Beirut. She holds a Master of International Relations from La Sorbonne Paris 1 and a Post diploma in Digital Media Arts from EPSAA (École Professionnelle Supérieure d'Arts Graphiques de la Ville de Paris).
Her work tackles social and identity issues such as gender, migration, and cultural heritage.
Through her lens, Deschamps seeks to visually translate social testimonies, and to challenge the dominant representation of her subjects. Her most recent long-term project, I Am Not Your Animal, depicts migrant domestic workers in Lebanon. Her intimate portraits aim to create a visual shift in how these women are usually represented in mainstream media.
Deschamps is the laureate of the SCAM Grant 2021 "Brouillon d'un rêve", the Prize UPP-Picto 2021, and is among the finalists for the Prix Levallois (2021). She was part of collective exhibitions (Agence Vu', Fondation Manuel Rivera-Ortiz, Gulf Photo Plus etc.) and also held several solo exhibitions since 2009.

Aline's photographs were relayed by several international media (Al Jazeera English, BBC, Libération, the British Journal of Photography, Público, Konbini, L'Oeil de la Photographie, Le Monde, O'Globo, Polka Magazine, etc...).
She is a Canon Ambassador, and a member of Women Photograph, Middle East Images and Diversify Photo.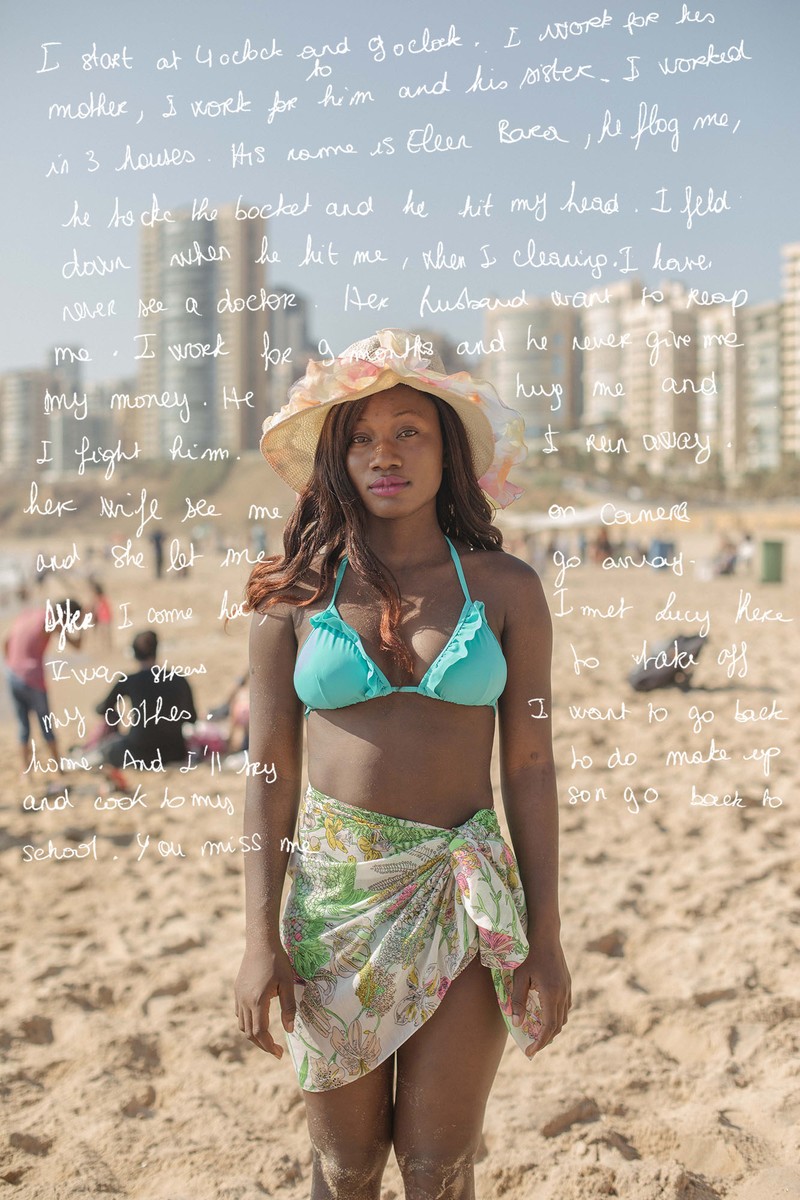 AWARDS & NOMINATIONS
2021
UPP X Picto Prize, France
Canon Ambassador, France
2018
Visa Pour l'Image, Finalist of the Canon Workshop, Perpignan, France
Agence Vu', Finalist for the Canon competition for Paolo Verzone's workshop, Paris, France
2017
PX3 – The Paris Photography Prize, 1st Place winner in Portraiture, France
2014
Paris Jeunes Talents, Finalist, Paris, France
SOLO SHOWS
2022
I Am Not Your Animal, Maison des photographes, Paris, France
2020
Luk Khrueng Generation, Host BKK Gallery, BKK, Thailand & MRO Foundation, Arles, France
2018
Samsara, Le 24, Paris, France
Les Grands Hommes, Le Hangar, Bagnolet, France
2015
Sérendipité, les Rencontres Photographiques du 10ème, Paris, France
2011
TED X Inside Out, street exhibition, Chiang Mai, Thailand
2009
Regards sur l'Enfance supported by UNICEF France, Mairie du 13ème, Paris
SELECTED COLLECTIVE SHOWS
2022
In A State of Flux, curated by Marie Tomb, no/mad utopia, Arthaus Beirut, Lebanon
2021
Vantage Point Sharjah 9 (VPS9), Sharjah Art Foundation, Sharjah, U.A.E
Chemistry of Feeling, Gulf Photo Plus, Dubai, U.A.E
2019
Visions from Europe, Matera European Photography Center, Matera, Italy
Fil(s) d'Exil, Maison des Ensembles, Paris, France
2018
Première, Agence VU ', Paris, France
Voies Off – EFET, Arles, France
2017
PX3 Laureates, Galerie Beaurepaire, Paris, France
GRANT & RESIDENCY
2022
Laureate of the Photographer Grant, Fondation Jean-Luc Lagardère, France
2021
Brouillon d'un rêve, a grant by the Civil Society of Multimedia Authors (Scam), France
2019
Matera European Photography / Visions from Europe, a Canon Residency for the European Capital of Culture, Matera, Italy


TALKS
2021
On Documenting human trafficking, by Thompson Reuters Foundation – Guest speaker
2020
On Artivism, by Civil Society 20 Summit – Guest Speaker
On the Kafala System, by Stanford Arab Student Society – Guest speaker