Johanne Allard
Johanne Allard (b. 1976) is a Canadian emerging multi-disciplinary artist based between Canada and Lebanon. She obtained a BA in Theater & Visual Arts from the University of Quebec in Montreal in 1999. During that time, she was mentored by the internationally renowned bronze sculptor Arto Tchakmakchian.
Moving to Beirut in 2000, she taught art & theater and directed several plays. In 2007, Johanne joined the "Theater of the Oppressed Lab" in New York to study under its late founder Augusto Boal and delivered workshops to educators and community leaders in Beirut.
In 2011, Johanne began creating sculptures using embroidery to capture a vivid impression of the turmoil in the Levant and Arab regions. On the wings of sculpted insects, she embroidered images of the mechanics of war and from nature which were heavily symbolic and in discourse with traditional, cultural embroidery practices. Her recent work seeks to show in graphic and intimate details the realities of tragedies and the shattering and enduring toll they take on individuals and society.
In 2021, Allard was awarded a year-long grant from The Canada Council for the Arts to create a multimedia installation on collective trauma in the aftermath of disaster for an exhibition scheduled in Beirut for August 2023.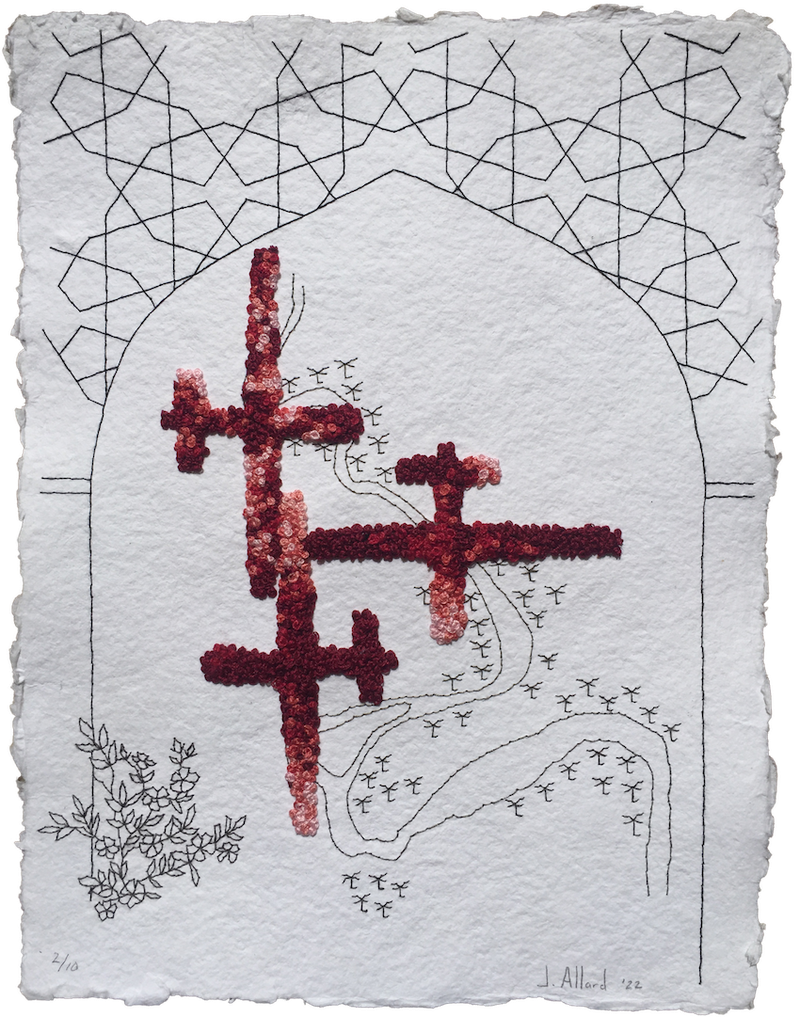 SOLO SHOW
2020
A Feast In The Ruins, 392Rmeil393 Gallery, Beirut, Lebanon
2018
Online Show, Artscoops, Beirut, Lebanon
SELECTED COLLECTIVE SHOWS
2019
Olea, Galerie +-10, Beirut, Lebanon
Stone School Gallery, Portage, Québec
2018
Textile Art, Wadi Finan Gallery, Amman, Jordan
2014
Summer Show, Mark Hachem Gallery, Beirut, Lebanon
GRANT
2021
Explore and Create, a grant from The Canada Council for the Arts
ART FAIRS
2022
Armenia Art Fair, no/mad utopia gallery, Erevan, Armenia
2017
Wadi Finan Gallery, BEIRUT ART FAIR, Beirut, Lebanon
PUBLICATION 
Barbara Baert, About Sieves and Sieving: Motif, Symbol, Technique, Paragidm, published by De Gruyter, 2019 (Black Iris I is the cover page)