Jacques Vartabedian
Jacques Vartabedian (b. 1987) is a Lebanese-Armenian artist, born in Beirut, Lebanon, where he currently works and lives. He holds a BA in Fine Arts and a Master's degree in painting from the Lebanese lnstitute of Fine Arts.
His work is involved in the creation of conceptually based sociopolitical objects that deal with conditions of real experience, and with the multifaceted reality that challenges existing physical and political boundaries.
He combines contemporary ideas with traditional techniques and creates a blend of extensions of our reality that are based upon his strong cultural traditions and his interest in the changing world of today.
He was the recipient of the (Art on Board Beirut) painting prize by Saradar Foundation in 2015, and the Boghossian Foundation's painting prize in 2016, followed up by an Art Residency at Villa Empain Brussels in 2018.
Jacques has participated in many solo and collective exhibitions locally and internationally.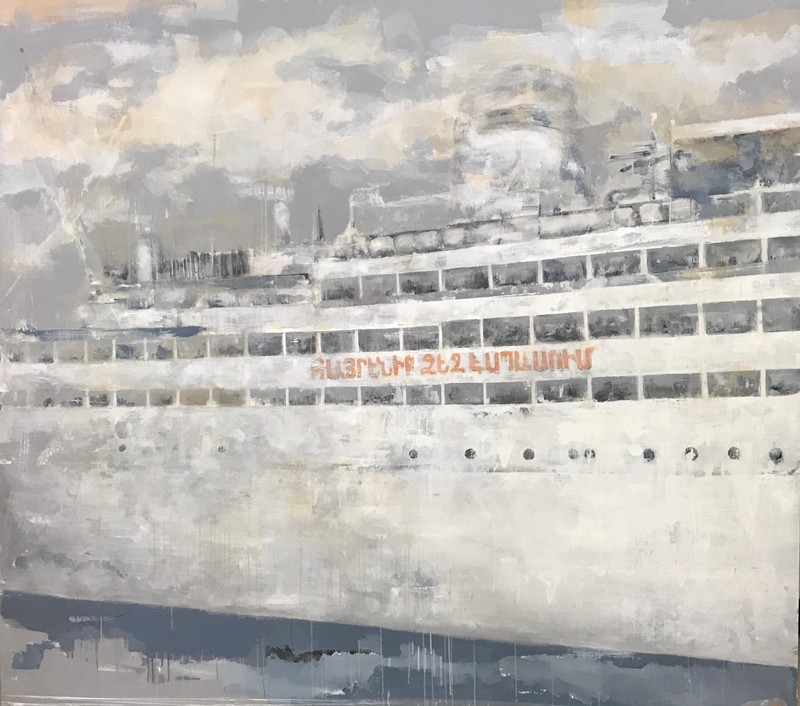 AWARDS
2016
Boghossian Foundation's Painting Prize, Belgium
2015
(Art on Board Beirut) Painting Prize by Saradar Foundation, Lebanon
SOLO SHOWS
2020
How to make a Human Pattern, Artlab, Beirut, Lebanon
2018
In The Memory of the Ones Who Won't Make It, Mark Hachem Gallery, Beirut, Lebanon
N O B O D I E S, 392rmeil393 Gallery, Beirut, Lebanon
2017
Transpositions (In Situ), ECAPS, Beirut, Lebanon
2016
Re-Flect (duo show), Tabari Art Space, Dubai, UAE
2015
Dreams in Black and While, 392rmeil393 Gallery, Beirut, Lebanon
SELECTED COLLECTIVE SHOWS
2021
Before the Cypress Broke, in partnership with Beirut Art Residency, Void Gallery, Derry, Ireland
2020
In 24-hours, The Wall Space Gallery, curated by Aisha Taskin and [SHIFT:ibpcpa], Scotland
2019
October 17, Galerie Janine Rubeiz, Beirut, Lebanon
State of Mind, Mark Hachem Gallery, Beirut, Lebanon
2017
Mediterranean Culture, l'Accademia di Belle Arti, Bolognia, Italy
2014
Extraordinary Art Exhibition, The Venue, Beirut, Lebanon
FAIRS & BIENNALES
2022
Armenia Art Fair, no/mad utopia gallery, Erevan, Armenia
Menart Fair, no/mad utopia gallery, Paris, France
2019
CUB Gallery, BEIRUT ART FAIR, Beirut, Lebanon
Biennale of Contemporary Art, MACAM, Aalita, Lebanon
2018
33rd Salon d'Automne, Sursock Museum, Beirut, Lebanon
2017
Revealing by SGBL, BEIRUT ART FAIR, Beirut, Lebanon
2016
Art Central, Hong Kong
2015
No Food's Land, BJCEM Biennale, Milan, Italy
RESIDENCY
2018
Villa Empain, Brussels, Belgium